10 Examples of My Vision Brought To Life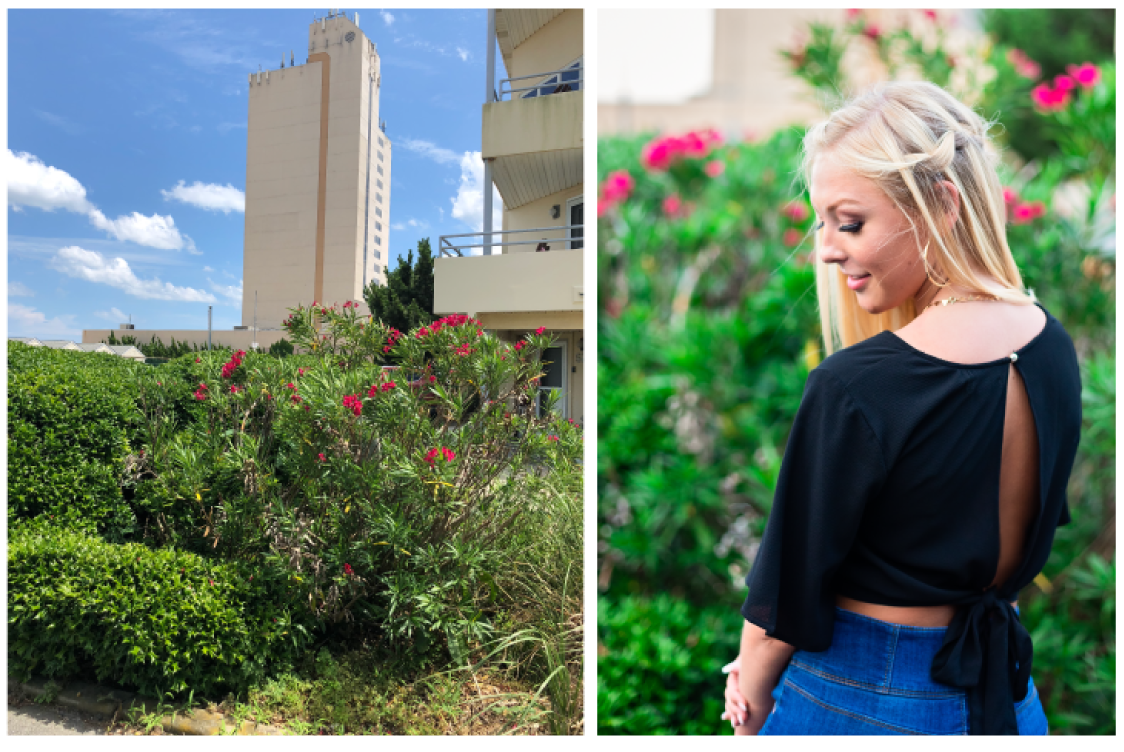 It All Starts With Location
"Vision is the art of seeing what is invisible to others." -Jonathan Swift
Most photographers would agree that you can see a location for what it is…but at the same time envision its potential. For me, I need to see what I'm working with to create a vision of the end product.
I'll be honest: while yes, I preach all day long about adaptability…I will also do everything in my power to avoid showing up to a shoot unprepared.
If that means I need to attend the rehearsal the night before the wedding, you'd best believe I'll be there. In my experience, the insight you gain going into a location you've seen at least once before is priceless. That allows me to go into the shoot prepared with a rough game plan. Can I improvise if need be? Of course. But do I like having all that pressure put on me while trying to summon my creativity? Ideally not.
When I have the good fortune of being in control of the shoot location, I defer back to places I've been before or my 'wish list' of places where I want to shoot.
The Process
Matching a location to the project
When I book seniors, I always send out a questionnaire as a way of getting to know them, because while they may be coming to me for my photographic style, it's their personality I'm trying to capture. If at all possible, I like to go over outfits so that I can plan exact locations around them. When I booked a portrait session with my most recent high school senior, Lexie, I was SO stoked that she was all about nature and COLOR.
As you may have figured out by now, I LOVE anything colorful, floral, or beachy. When I first stumbled upon these little storage units with alternating pastel doors up by the Wyndham Virginia Beach Oceanfront years ago, I became GIDDY at the thought of shooting a portrait session there; it hit all the marks!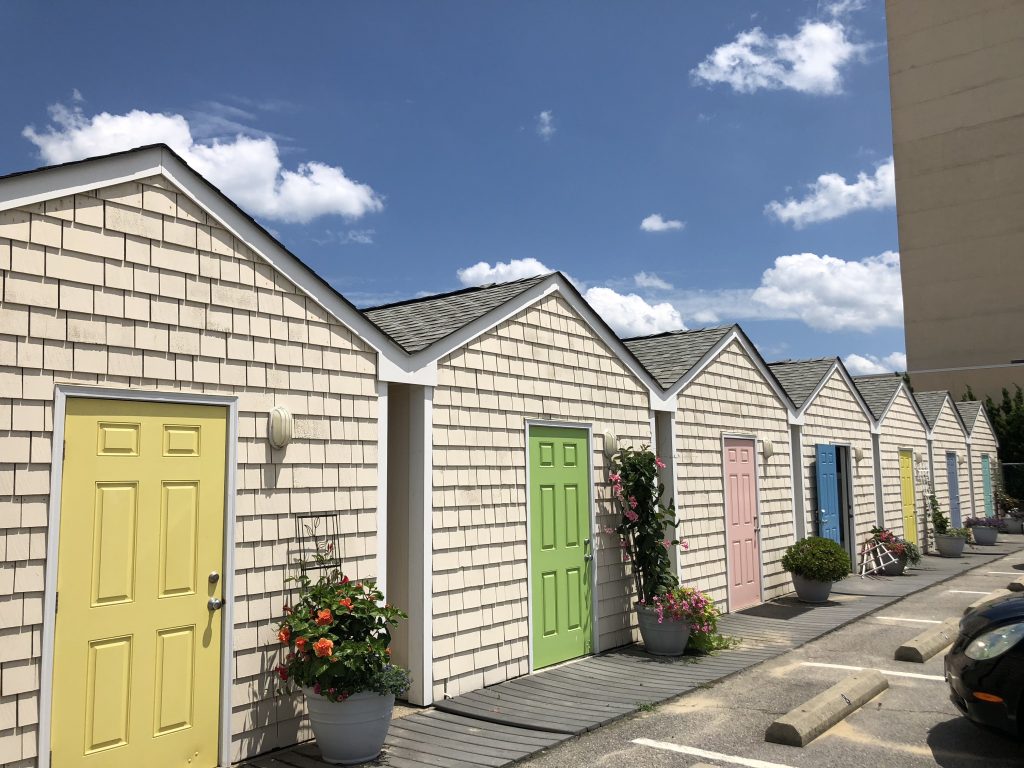 Fast forward to several months ago when I saw on Lexie's questionnaire that she loves bright colors, I of course immediately thought, this is my chance to shoot there!
Scouting
Minimize Surprises, Maximize Time
There's definitely a lot of work that goes into a shoot on location with hair and makeup, but ohhh is it worth it! I don't want my clients to worry about anything other than showing up and rocking it. Despite how familiar I am with the area, I still wanted to scout 57th Street the day before Lexie's senior shoot to make sure there were no drastic changes! That's when I snapped these inspiration shots below:

With that first shot, I just liked the tropical looking leaves and the simplicity of the scene. With the second, I knew those purple blooms would create a nice blurry, colorful background for the outfits we had planned. In the third, I saw an opportunity for some filtered backlighting that would create that gorgeous hair light and really separate her from the background. And with that fourth one, I knew the blue mosaic tiles would pop against her favorite outfit, a white romper.

I'm sure you're getting the idea by now. I went up there to scout already knowing what her outfits looked like and picked spots I thought would not only appeal to her but also not be too distracting. It started with the colorful doors and morphed into me finding a tan wall that would contrast nicely against her black blouse.
Whenever possible, I like to walk the grounds and conceptualize where I want to shoot each outfit. I determine what's feasible (within walking distance) and establish a timeline for each outfit so that by sunset, we're ready to knock out the last few shots without having to rush. I also like to see how the light falls at the time I'll be shooting, usually the hour or two before sunset.
Putting the Pieces Together
Fits Like a Glove
When all is said and done, I go to all this effort so that I can walk into the actual shoot with at least a handful of great spots I know will work, with the option to improvise as I go if the client prefers something else. This most recent shoot with Lexie was a great example of having a client who fully trusted me to take the reins and loved the outcome!
Take a look at the before and after images below–I happened to keep most all of my inspiration snaps this time as a reference. They're pretty spot on to how I envisioned the actual shots to look, and for that reason I'm SO happy with how these all turned out! Let me know what you think in the comments below.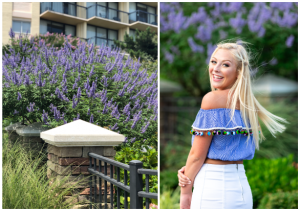 The blooms on this tree compliment her blouse and created a nice balance of color in the shot.

I could've honestly shot the entire session at these storage units!!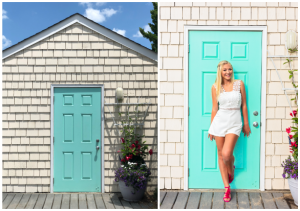 I mean, I obviously had to shoot the teal door.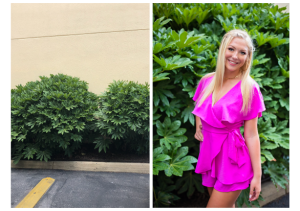 Her pink outfit definitely stole the show, so this simple leafy background was perfect so as not to compete.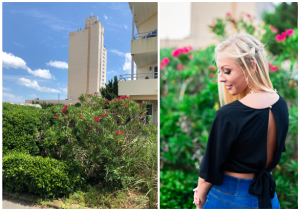 A seemingly sad little bush created perfect pops of color against her black blouse.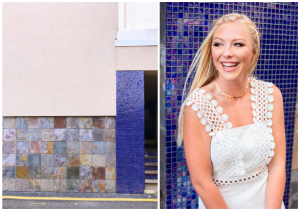 As I had hoped, that blue tile was the perfect color contrast to her white romper!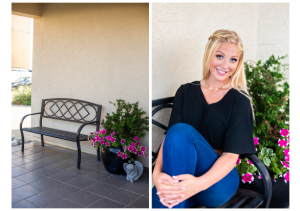 I always like to have sitting options for a little posing variety.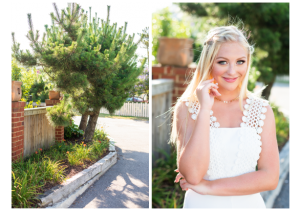 AHH that backlighting!! I could write a whole post just confessing my love for that!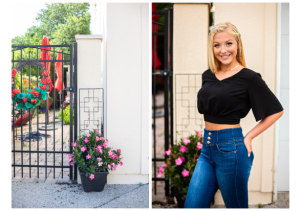 Her favorite color is pink, so I tried to incorporate it into the majority of the shots.
I get SO many puzzled looks when I shoot into the sun…but I do it for the lens flare and yes, the backlighting: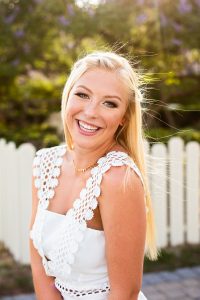 In Conclusion…
By sharing all of these before and after images, I'm hoping to give a little insight into not only my process, but the lengths that I will happily go to in order to make the perfect portrait. Of course, things don't always work out exactly as planned, but in my eyes it's better to have a rough idea than to go into a situation blind. Lo and behold, I was back up around 57th Street a matter of days later and that purple tree had lost all of its blooms!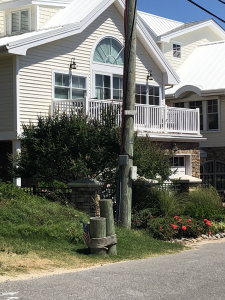 When I first started out, I made the mistake of showing up to a location, assuming it looked the same as the last time I had seen it, only to be unpleasantly surprised. Now I know better, and have found a method that truly helps me create a laser-focused vision and successfully execute it.
And every so often, you get something you can't plan for…like a stunning sunset right before the storm rolls in!
All in all, I've learned to approach a shoot with a plan, but expect the unexpected.