Do You Know Your Style?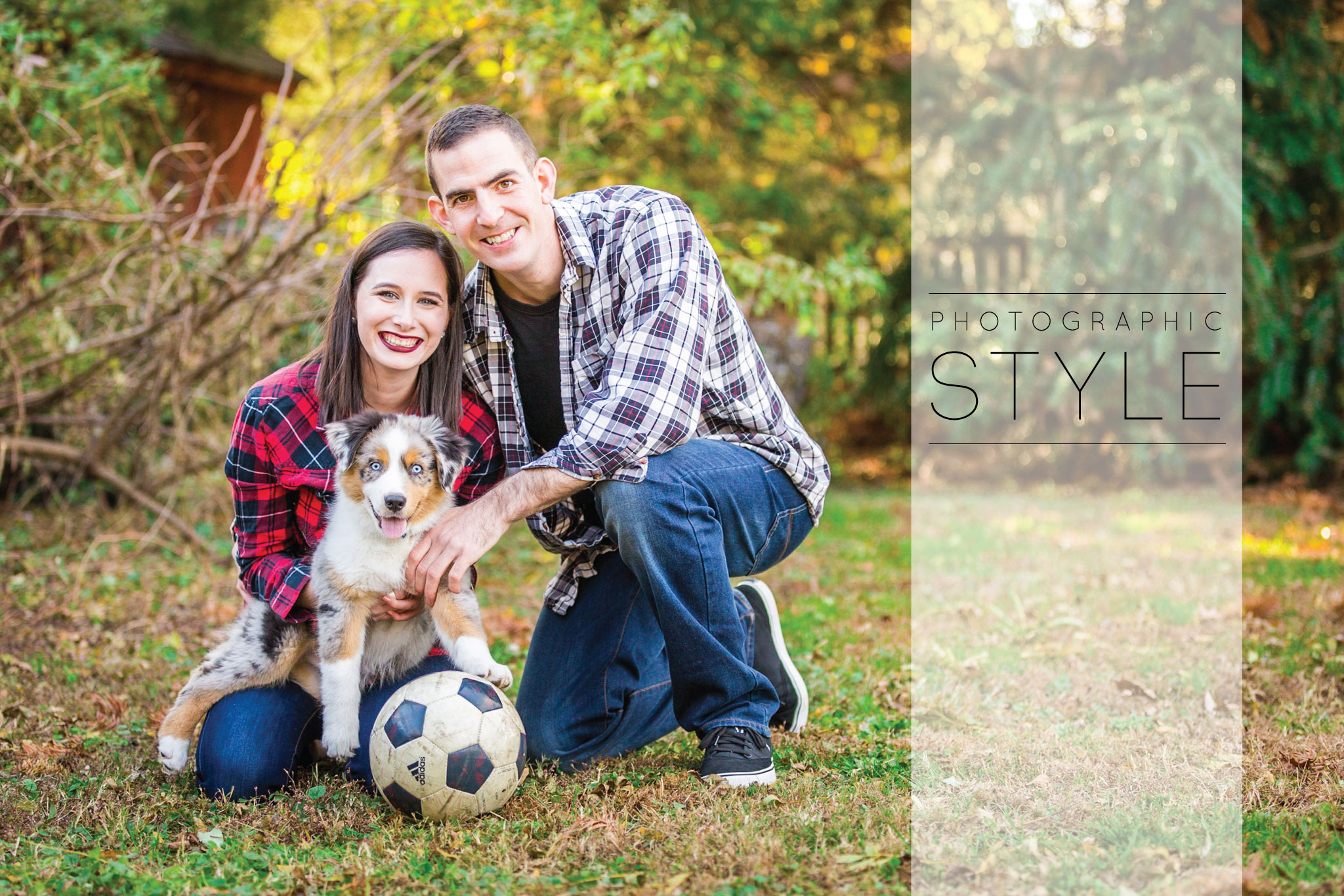 Riddle Me This:
What draws you in more: a bright, colorful image, or a dark and moody photo? Popular trends right now include the "light and airy" look where the sky is predominantly white and all colors are pastel, or the dark and grainy film look. Maybe you're somewhere in between? None of these are right or wrong; it's all personal preference. But chances are if you've landed on this web page, you also like photos that are bright, vivid and full of authentic color. At least I hope that's the case, because that's what I've spent years developing into my style and therefore the kind of clients I hope to attract. While it may be trendy at the moment to shoot everything super bright and washed out, I believe whole-heartedly in exposing all of life's colors in their true form. That's just how I roll!
From the consumer side, it helps tremendously to know what to expect from a photographer when you hire them so there are no surprises and you get what you want! Instead of picking the cheapest photographer and trying to get them to shoot a certain way, ideally you'd find someone whose style matches your own and fits within your budget.
When first starting out, photographers tend to take whatever work they can get and RUN with it. They cater entirely to the people hiring them. They are shown Pinterest images and are told to mimic them. I absolutely did that at first, too…and to a certain extent, you always cater to the client. However, over time, you develop a style that eventually people come to you for  because they want that specific look.
When it comes to any artistic medium, each artist typically develops their own unique style–and it's something I spent a lot of time trying to figure out when all I had to do was just go out and shoot! You know, get those 10,000 hours of practice in. Because if there's only one trait about style, it's consistency. "We are what we repeatedly do," after all! (Thanks, Aristotle).  That's what makes it your 'thing.' And this can be said about any aspect of your personality!
I've always seen color a little differently, and over time I've learned how much I value the kaleidoscopic side of life. There's just something about a sunset sky with that gradient that blends the oranges and reds into the purples and blues that is just absolutely breathtaking to me. But you can't capture those colors AND expose the person standing in front of it unless you know how to use flash…and I made it a point to do so. Otherwise, it's simply a silhouette: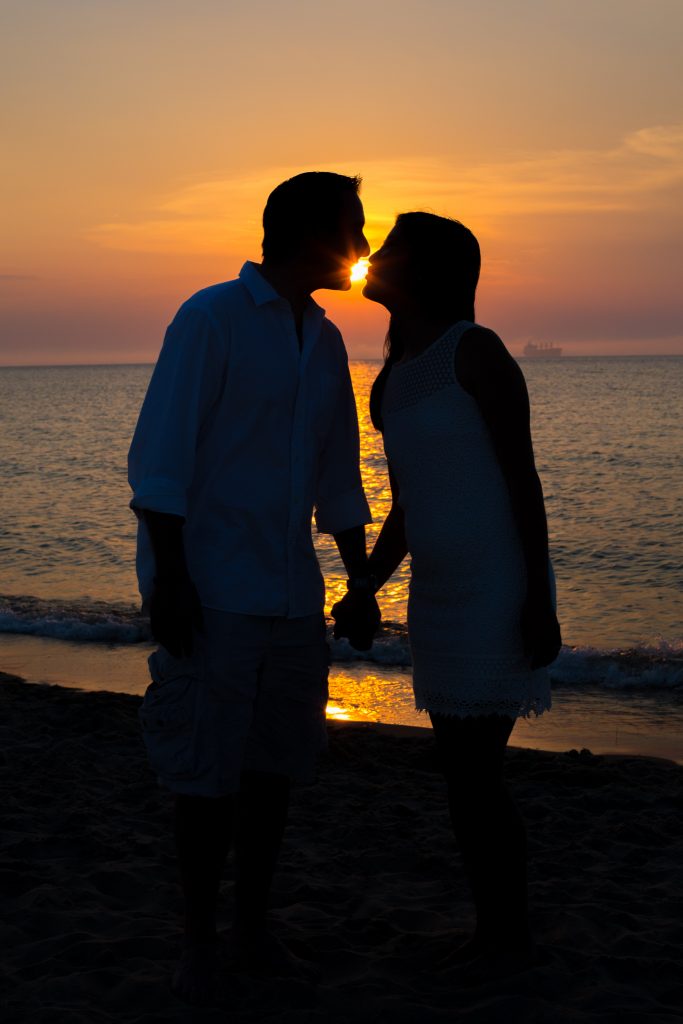 The left images below are straight out of camera, and the right ones have had a few adjustments made in Adobe Lightroom (mainly temperature, shadows/highlights and vibrancy). Not a huge difference, but just enough to bring it back up to what it looks like in real life. In most cases, I try to shoot 60-90 minutes before sunset to make sure we get the best possible light.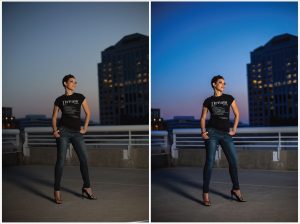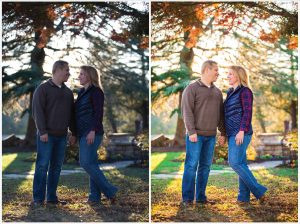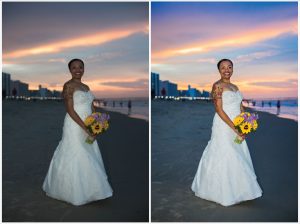 Without diving in too deep for the people who don't eat, sleep and breathe photography, I'll say that my style for the most part is about 80% how I shoot in camera and about 20% how I edit the images afterward. Point being, you shouldn't be relying heavily on Photoshop to fix what you could've accomplished in camera. That last 20%, though, is the finishing touch and still very important to the process! I will say, that's one thing I notice right away with novice photographers is the lack of post-processing skills. That and once they DO learn how to edit, the consistency isn't there. Again–I've been there. My edits used to be all over the place, and it makes me cringe looking back. But lo and behold, I've learned that consistent shooting plus consistent editing becomes a photographer's style.
To this day, one of the highest compliments I can receive is for someone to recognize my work or say how much they'd like to work with me because they love my style. It becomes more than just the look of a photo–but also the feel of it. I've mentioned many times that I come from a photojournalism background and tend to favor the more candid photos; this shines through in style too. I can pose a model all day long, but most people aren't, in fact, models.
I'm hoping that by explaining this, it encourages people to better pick a photographer that's suited for their needs! Or maybe even help photographers who are just starting out hone their craft.
Feel free to comment below if you have any thoughts to add!